H.O.G. 411 Road Warrior Program – This program is designed to encourage participation in H.O.G. 411 chapter events; you just have to come out and ride, attend meetings, and volunteer. The Road Warrior program works on an honor system, with each participant responsible for tracking their own points on the annual Road Warrior Points sheet.
At 500 points the participating member will be awarded a Road Warrior patch.

For every additional 1000 points earned, the participating member will be awarded a Road Warrior Saber.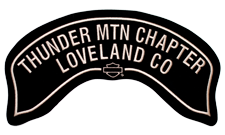 Chapter Merchandise – Show your chapter pride with chapter specific jackets, shirts, flags, hats, and more. Some chapter specific items are kept in stock and are ready for immediate purchase. Numerous other chapter specific items are available through prepaid order, per request and/or demand.
H.O.G. Benefits – You've made the commitment to ride a Harley-Davidson motorcycle. Now allow Harley Owners Group to give you a little back. H.O.G. gives you access to the following benefits that are designed exclusively for its members.
Roadside Assistance

– You're automatically covered when you need it.

H.O.G. Events

– Participate in anything from local chapter rides to pin stops, to state and national rallies.

H.O.G. Magazine

– Packed with riding stories, product info, news, member stories, and more.

H.O.G. Touring Handbook

– Features H-D road maps of the United States, Canada, and Latin America, with a quick reference to dealer information.

Ride 365 -

The miles you ride show your dedication to freedom and the open road.

For 2020, we're rolling out two new challenges to supercharge your riding experience: 10 Rides for '20 and 50 Rides, One Nation. Find your freedom, explore the country from the saddle of your Harley

motorcycle, and earn rewards – and bragging rights – while doing it! Start logging miles in 2020, and preview our 10 rides for '20 today.