H.O.G. 411 Road Warrior Program – This program is designed to encourage participation in H.O.G. 411 chapter events; you just have to come out and ride, attend meetings, and volunteer.  The Road Warrior program works on an honor system, with each participant responsible for tracking their own points on the annual Road Warrior Points sheet and turned in to the Road Warrior Points Coordinator, Director Rudy Ruderman at director@hog411.com.
At 500 points the participating member will be awarded a Road Warrior patch.
For every additional 1000 points earned, the participating member will be awarded a Road Warrior Saber or Star pin, of their choice.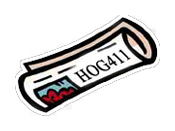 H.O.G. 411's Pig Tales Newsletter – Read the latest chapter news, upcoming events and past happening recaps. Enjoy articles from officers and members alike, as well as photos and other fun regional events. To submit an article and/or photo for consideration in an upcoming Pig Tales newsletter, please contact H.O.G. 411's Editor Janeen Eggett at editor@hog411.com.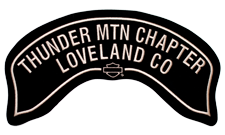 Chapter Merchandise – Show your chapter pride with chapter specific jackets, shirts, flags, hats, and more. Some chapter specific items are kept in stock and are ready for immediate purchase by contacting H.O.G. 411's Treasurer Perry Williams at treasurer@hog411.com or asking for her at a monthly Membership meeting. Numerous other chapter specific items are available through prepaid order, per request and/or demand. Please check with Perry for your specific chapter gear/item needs.
H.O.G. Benefits – You've made the commitment to ride a Harley-Davidson motorcycle. Now allow Harley Owners Group to give you a little back. H.O.G. gives you access to the following benefits that are designed exclusively for its members.
Roadside Assistance – You're automatically covered when you need it.
H.O.G. Events – Participate in anything from local chapter rides to pin stops, to state and national rallies.
H.O.G. Magazine – Packed with riding stories, product info, news, member stories, and more.
H.O.G. Touring Handbook – Features H-D road maps of the United States, Canada, and Latin America, with a quick reference to dealer information.
H.O.G. ABC's of Touring Contest – An alphabetical 'Scavenger Hunt' for you and your Harley-Davidson motorcycle!